Volmarsteiner Str. 1-9
58089 Hagen | Deutschland

+49 (0) 2331 484750

+49 (0) 2331 484515
---
Kontakt aufnehmen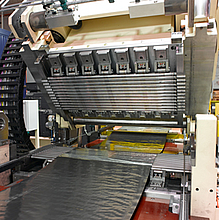 MK Metallfolien can reprocess customer coils to your specifications for all of your production processes. We roll, stretch, bend, degrease, and cut your coils to the sizes you specify, economically and to schedule.
Coil sizes:
Width 2,0 mm – 1.000 mm
Thickness 0,03 mm – 1,0 mm
Operating weight:
max. 6 t
Uncoiler:
ID 300 mm – 500 mm
OD max. 1.300 mm
Tensile strength:
min. 220 N/mm²
max. 2.200 N/mm²
Elongation:
min 0.5% to max 50%
Intermediate ply:
paper possible
Coiler:
ID 300 mm – 500 mm
OD max 1,300 mm
Please contact us for more details on contract work.